From Nazi Germany to the PA: Murder of Jews/Israelis is heroic
Two Palestinian murderers are:
"Shining stars in the skies of Palestine"

"Heroic important leaders"

"Symbols"

Chairman of PA-funded Prisoners' Club "bows in honor and admiration"

City squares are named after them
On International Holocaust Remembrance Day it is important to recognize that state sponsoring, honoring, and rewarding murderers of Jews and Israelis did not disappear with the destruction of Nazi Germany. Today, the Palestinian Authority presents Palestinian terrorist murderers in prison, and dead terrorists - so-called Martyrs - including suicide bombers, as the ultimate heroes and role models for Palestinian society and children.
The following are examples of how the PA has repeatedly honored two terrorist prisoners who kidnapped and murdered Israeli soldier Avraham Bromberg in 1980.
Karim and Maher Younes are Israeli Arab terrorist cousins. They were originally sentenced to life in prison for the murder, but Israeli President Shimon Peres as a good will gesture to Mahmoud Abbas, reduced their sentences in 2012 to 40 years.
One great honor PA gave to Karim Younes was when PA Chairman Mahmoud Abbas in May 2017 appointed the murderer to the Fatah Central Committee, the executive branch of Fatah, comprised of the most important Fatah leaders. Abbas' message to Palestinians on the importance of murdering Israelis could not be clearer.
Karim Younes recently began the 40th and final year of his sentence. In the PA the excitement is building up and the leadership is preparing to receive their "hero." Official PA TV has dedicated entire programs to the terrorist, and broadcast PA officials' visits to his home. One visitor was Chairman of the PA-funded Prisoners' Club Qadura Fares who praised the two murderers as "two heroic important leaders," asserting that they have become "symbols for the entire Palestinian people":
Official PA TV host: "Today's topic is prisoner Karim Younes… and prisoner Maher Younes (i.e., murderers)" …

Chairman of the PA-funded Prisoners' Club Qadura Fares: "Allow me to send greetings to them and to say good evening to them and to all their brothers and comrades: the male and female prisoners. I bow in honor and admiration to the two symbols of the struggle, these two heroic important leaders... They have become symbols for the entire Palestinian people."

[Official PA TV, Topic of the Day, Jan. 8, 2022]
The PA message of support for murder is again explicit. Murderers of Jews/Israelis are "symbols for the entire Palestinian people."
Fatah posted about the coming "year of freedom" for the two "giants":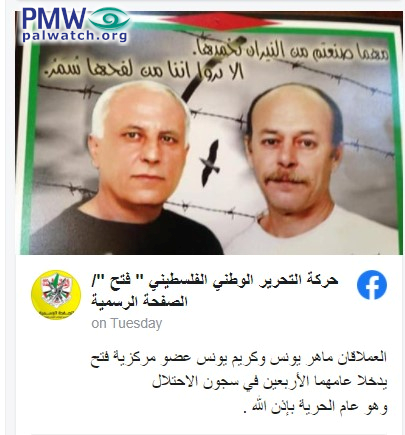 Posted text: "The two giants Maher Younes and Fatah Central Committee member Karim Younes (i.e., terrorist cousins, murdered 1) are beginning their 40th year in the occupation's prisons, and this is the year of freedom, Allah willing"

[Official Fatah Facebook page, Jan. 9, 2022]
Also fellow terrorists admire the two murderers. PA TV served as platform for released murderer Zuheir Al-Shashniya to address the two murderers – in his terminology "two mighty heroes" - stressing that they are "glowing… and shining names in the skies of Palestine":
Released murderer Zuheir Al-Shashniya: "We say to Karim and Maher [Younes] (i.e., imprisoned murderers): You are glowing names, shining names in the skies of Palestine. We say to our Palestinian people in the Interior (i.e., Palestinian term for Israel): Decorate your skies and decorate your land for Karim's reception. Every day that passes is a victory for us for the reception of these two mighty heroes, who taught us the organizational method of operation… They are shining stars in the skies of Palestine. We say to them: We bow before you in honor and admiration, you are greater than everything in Palestine. You are all of Palestine."

[Official PA TV, I Call You, Jan. 12, 2022]
The PA TV studio was adorned with posters of terrorist prisoners, including: Karim and Maher Younes, Nasser Abu Hmeid, who was responsible for the murder of 7 and Hassan Salameh, who was responsible for the murder of 46 (see longer descriptions below.)
Palestinian Media Watch has already exposed that the PA has named at least two squares after Karim and Maher Younes, and at a school, the PA planted trees in their honor and displayed photos of them. Abbas' deputy chairman in Fatah, Mahmoud Al-Aloul, singled out Karim Younes as an example of the "dear" and "beloved people" in prison, of whom PA leaders are "proud":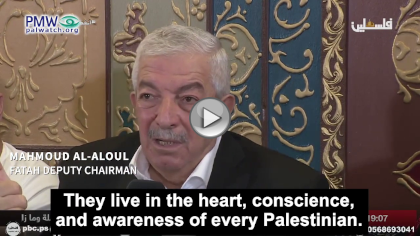 Fatah Deputy Chairman Mahmoud Al-Aloul: "We can't speak about all the prisoners, but we are proud of them all, of dear Marwan [Barghouti], of dear Karim [Younes] (i.e., both terrorist murderers), of Fuad Al-Shubaki (i.e., weapons smuggler), and of the large group of beloved people… They live in the heart, conscience, and awareness of every Palestinian."

[Official PA TV, Giants of Endurance, Oct. 21, 2021]
Similarly, top PA official Jibril Rajoub has praised them as "national leaders," "my brothers and colleagues in prison."
Fatah Central Committee Secretary Jibril Rajoub: "I send blessings to my brothers and colleagues in prison, and foremost among them the two national leaders, my colleagues in the [Fatah] Central Committee, brother leader Marwan Barghouti and brother leader Karim Younes (i.e., terrorist murderers) and to all members of the [Fatah] Movement in the homeland, the diaspora, and in the fortresses of imprisonment."

[Official PA TV, Feb. 9, 2021]
Also the families of the two murderers are proud. Hosted on PA TV, Maher Younes' mother explained that the family is "proud and not embarrassed" of him: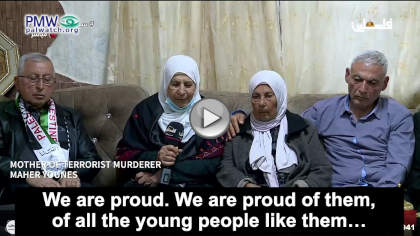 Mother of terrorist murderer Maher Younes: "We are not embarrassed of them, [they are not imprisoned] for theft or something. We are proud. We are proud of them, of all the young people like them"

[Official PA TV, April 11, 2021]
A tragic statement of PA society's values that follows directly from the leaders' teachings, is that in Palestinian society a mother is embarrassed if her son steals but proud if he murders an Israeli.
Official PA TV also broadcast a short film about murderer Karim Younes, in which a letter written to Younes by Fatah terrorist Zafer Al-Rimawi, who was responsible for several shooting attacks. Al-Rimawi also expressed "pride" in Younes:
Terrorist prisoner Zafer Al-Rimawi: "We are proud of you to the eighth heaven. O, our secure fence of resolve, be calm, the time of freedom is necessarily arriving. We just need to endure for an hour, and God supports us. Prisoner Karim Younes in his day that will be remembered for eternity, the subject and the object of the sentence."

Narrator: "On the seashores, there he will walk, the place where the storm of Dalal Mughrabi (i.e., terrorist who led murder of 37, 12 of them children) and her noble comrades passed through, and afterwards he will continue towards Ramallah and Hashem's (i.e., the grandfather of Islam's prophet Muhammad) Gaza while passing through the capital Jerusalem, in order to salute the legend of Martyrdom [former PLO Chairman and PA President] Yasser Arafat."

[Official PA TV, Jan. 7, 2022]
Official PA TV also broadcast another film about Karim Younes, in which a poem is presented that was written for Younes by terrorist Nizar Tamimi, who was involved in the murder of 1:
Lyrics: "From exile he casts his golden threads,
Weaves a girdle of pride,
Adorns with it the shoulder of a mother who has been exhausted by the cold of prison and distance
So that it will serve as a girdle for the one who gave birth to this ancient glory,
She gave us this generous one ("Karim" in Arabic -Ed.)
So that he would illuminate the darkness of the path.
He scattered the darkness of night,
And was a dawn of lofty glory."

Narrator: "On one of the hills of 'Ara in the Triangle (i.e., a concentration of Israeli-Arab towns and villages in northern Israel), which is Palestinian to its roots, in the embrace of an ancient home within it, a Palestinian mother gave birth to her baby, and she smelled on him the scent of earth as it is molded by the rain. She said: Son of my womb and offspring of my spirit, I have given you to God, be a sword for the homeland, a fence for the land, and a book for the history, which the free people will be satisfied with. It happened just as she said. He was a sword, a fence, and a book full of messages. When he grew up, became strong, and became a young person and his steps reached the path, he ignored the flow of desire in the veins and the flow of craving in the body, and instead advanced, sketched the map of truth, punctiliously investigated the custom of the thief who took control of the produce in the granary and in the storage jugs, and sought information that would reveal to him the thief's weak points and strong points as well, so that he would perhaps be able to restore the map to its previous and original state. His weapon was a notebook and a pen and a revolutionary place of prayer, which gave the idea its virtue and determined for the rifle its target and for the behavior its nobility and dignity. During the day Karim would write his many articles for the people at home, in the neighborhood, and in the café and university, and when night fell he let his actions speak, and they spoke in a precise language that the thief of the land and life understands. When they arrested him at the beginning of his young life, he did not stand in a dark corner letting out groans and moans, but rather stood upright as a noble man while dealing with the impossible and managing the burdensome time, building a castle and creating an epos."

[Official PA TV, Jan. 6, 2022]
The following are longer descriptions of the terrorists and their crimes mentioned above:
Zuheir Al-Shashniya – Fatah terrorist from the Gaza Strip who murdered 1 during the Palestinian wave of violence and terror against Israel (the first Intifada, 1987-1993) in which approximately 200 Israelis were murdered. Al-Shashniya was arrested in 1990 and given a life sentence, but was released in October 2011 as part of the Shalit prisoner exchange deal between the Israeli government and Hamas. In that deal, Israel released 1,027 Palestinian prisoners in exchange for Israeli soldier Gilad Shalit, who had been held hostage by Hamas for more than 5 years.
Hassan Salameh – Hamas terrorist who is serving 46 life sentences for heading the terror infrastructure that carried out 2 suicide bombings on no. 18 buses in Jerusalem (first attack on Feb. 25, 1996, second attack on March 3, 1996), and the suicide bombing at the Ashkelon Junction hitchhike point (Feb. 25, 1996). 46 people were murdered in the attacks and around 100 were wounded.
Zafer Al-Rimawi – Palestinian terrorist and member of Fatah and the PA Preventive Security Forces who was responsible for several shooting attacks against Israeli civilians and aided other Fatah terrorists from 2001-2002 during the PA terror campaign (the second Intifada, 2000-2005). Al-Rimawi was arrested in 2002 and is serving 32 years in prison.
Dalal Mughrabi – female Palestinian terrorist who led the most lethal terror attack in Israel's history, known as the Coastal Road massacre, in 1978, when she and other Fatah terrorists hijacked a bus on Israel's Coastal Highway, murdering 37 civilians, 12 of them children, and wounding over 70.