PA calls for unity with Hamas: "Our arms and hearts are open" to Hamas
"Our arms are still open [to Hamas], and our hearts are open to all dialogue that will lead in the end to the unity of the Palestinian people and its forces" -

senior PA official

"Brothers should not be angry at each other.This is a basic rule of Palestinian unity, cohesion, and mutual support" -

senior PA official

"Hamas is like Fatah" – broadcast of old Arafat unity statement
"Abbas [has not said] one word against Hamas… Hamas is part of the Palestinian people" - Abbas' advisor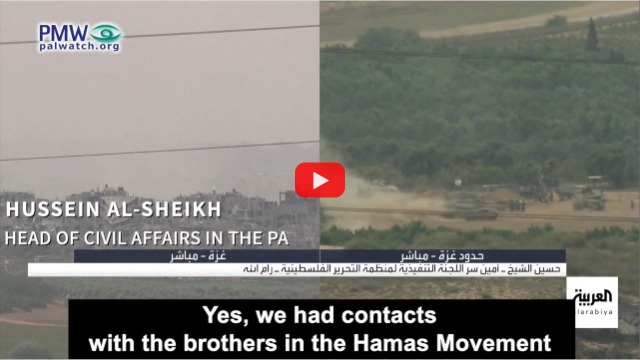 Senior Palestinian Authority official Hussein Al-Sheikh, who many see as the person Mahmoud Abbas may have designated as his successor, has announced that the PA's "arms are still open" to Hamas, and that "our hearts are open to all dialogue that will lead in the end to the unity" of all Palestinian military forces. (See full text and video below.)
Palestinian Media Watch has documented that the PA and Fatah celebrated the October 7 slaughter of 1,200 Israelis, have since refused to condemn it, and now they are going one step further: instead of distancing themselves from Hamas' atrocities of rape, murder, and burning people alive, the PA and Fatah are calling for unity with the terrorist organization.
To further encourage unity with Hamas, Fatah has even broadcast two videos of Palestinian icon and PA leader Yasser Arafat from more than 20 years ago stressing unity with Hamas, even using the words: "Hamas is like Fatah."
The first video shows the two terror leaders Yasser Arafat and founder and then leader of Hamas, Ahmed Yassin, sitting next to each other smiling warmly. Arafat tells Yassin: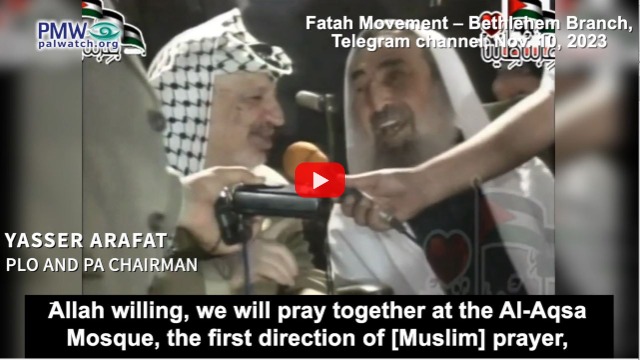 Arafat: "Allah willing, we will pray together at the Al-Aqsa Mosque, the first direction of [Muslim] prayer, and the third [holiest] mosque after the two holy mosques, at the site of Prophet Muhammad's [Night] Journey, and the cradle of [Jesus] the messiah."

Hamas leader Ahmed Yassin: "Allah willing, Allah willing."

[Fatah Movement – Bethlehem Branch, Telegram channel, Nov. 10, 2023]
The second video shows footage of a speech by Arafat in which he criticizes the audience for singing songs of different Palestinian political parties. Arafat asked them to stop because all Palestinians are "together" and "Hamas is like Fatah":
Arafat: "Brothers… we don't want political party songs. I tell you on behalf of Fatah, and on behalf of Palestine… For me the Popular [Front for the Liberation of] Palestine is like the Democratic [Front for the Liberation of Palestine], and Hamas is like Fatah. [Islamic] Jihad is like the Arab [Liberation Front]. The [Palestinian Popular] Struggle [Front] is like the Arab [Liberation Front]. We are all together, in one trench until Jerusalem, Allah willing."

Text on screen: "When you speak about Yasser Arafat – know that you are speaking about the history of an entire nation. Know that you are speaking about a revolutionary."

[Fatah Movement – Bethlehem Branch, Telegram channel, Nov. 11, 2023]
Abbas' advisor Mahmoud Al-Habbash has also stressed unity with Hamas during the current war, reminding Palestinians that the PA has not said "one word against the Hamas" and that "Hamas is part of the Palestinian people":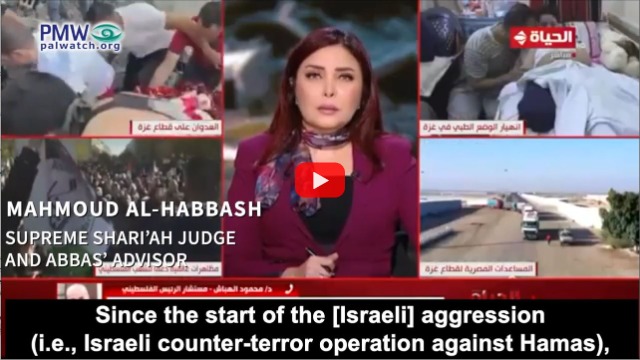 Mahmoud Al-Habbash: "Since the start of the [Israeli] aggression (i.e., Israeli counter-attack against Hamas), has anyone heard from us, from the [PA] leadership, from President Mahmoud Abbas to the last of the people in the Palestinian leadership – has anyone heard from us one word against the Hamas Movement or against any Palestinian?"

Interviewer: "No, that's correct."

Mahmoud Al-Habbash: "Not under any circumstances. Even though we have many disagreements, my current mission is… to defend my people, to defend my Palestinian people. Hamas is part of the Palestinian people."

[PA Chairman Mahmoud Abbas' Advisor on Religious Affairs and Islamic Relations Mahmoud Al-Habbash, Facebook page, Nov. 6, 2023] 
As mentioned above, Hussein Al-Sheikh, who serves as PLO Executive Committee Secretary, Head of the PLO Negotiations Affairs Department, and Fatah Central Committee member – and might be the one to take over from PA Chairman Abbas – has endorsed Hamas as a "brother," announcing that the PA and Fatah are standing with open arms to embrace the terror organization: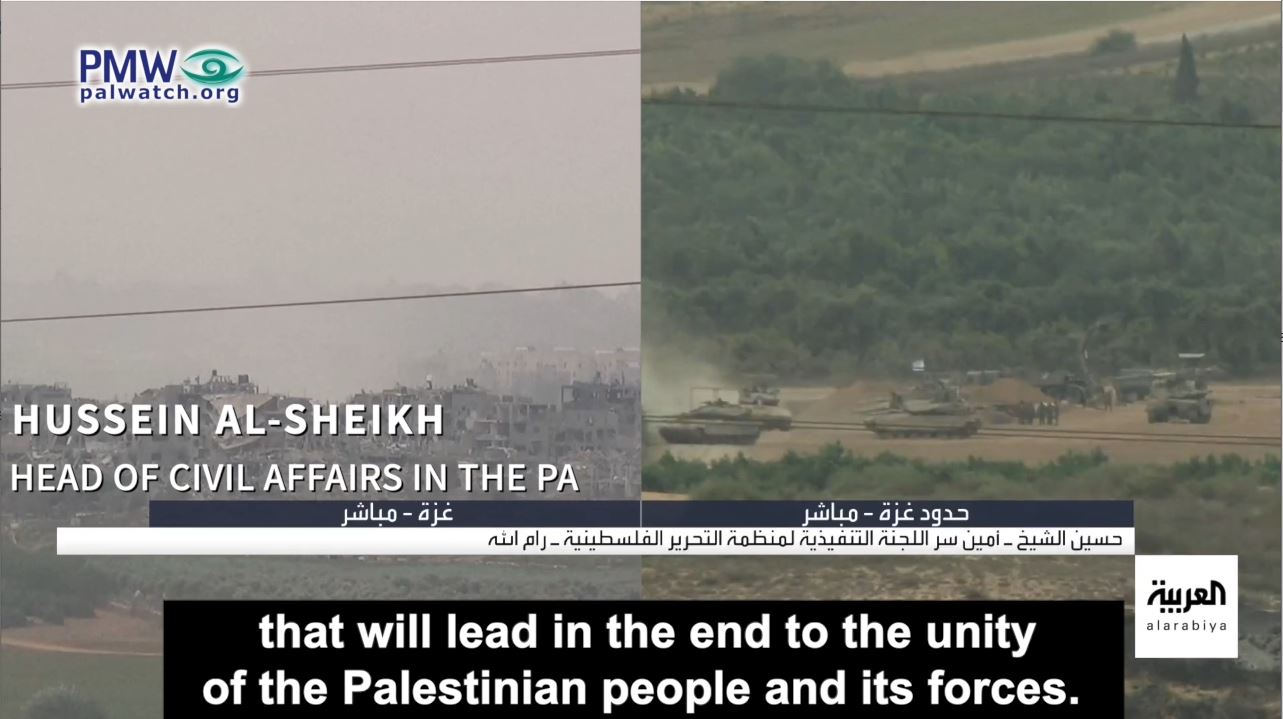 Head of Civil Affairs in the PA Hussein Al-Sheikh: "Currently, when [spilling] Palestinian blood is deemed permissible, brothers should not be angry at each other.This is a basic rule of Palestinian unity, cohesion, and mutual support... Yes, we had contacts with the brothers in the Hamas Movement before Oct. 7, [2023] (i.e., Hamas' massacre of Israel) and after Oct. 7… We must reach an agreement, and we have tried again and again over many years to convene all the Palestinians under the flag of the PLO, its political fundamentals, and its vision regarding managing the conflict with Israel and [mobilizing] the international community to the side of our people' struggle, until the occupation (i.e., Israel) is removed from our land and our homeland. Therefore, our arms are still open [to Hamas], and our hearts are open to all dialogue that will lead in the end to the unity of the Palestinian people and its forces."

[Al-Arabiya TV (Saudi Arabia), X (Twitter) account, Nov. 12, 2023]
Similarly, Fatah official and Head of the Coordination Committee for the Factions in Bethlehem Muhammad Al-Ja'afari, stressed the unity of all the terror organizations in the "fight" against Israel:
Muhammad Al-Ja'afari: "Regarding the Hamas Movement and Islamic Jihad, they are part of the Palestinian political scene and part of the Palestinian campaign, and therefore eliminating Hamas and [Islamic] Jihad is eliminating the Palestinian people, [just like] eliminating Fatah is eliminating the Palestinian people and eliminating the Popular Front [for the Liberation of Palestine] (PFLP) is eliminating the Palestinian people. The question is not the PFLP, Fatah, Hamas, and [Islamic] Jihad, but rather the idea of the people's right to fight and achieve freedom and independence."

[Official PA TV, Nov. 1, 2023]
An English-language interview with Fatah Spokesman Jamal Nazzal on BBC radio shows that Fatah is willing to accept continued Hamas rule in the Gaza Strip:
Posted text: "An interview with Fatah Movement Spokesman [and Fatah Revolutionary Council member] Dr. Jamal Nazzal on BBC radio."

BBC interviewer: "Israel says it won't accept the existence of Hamas. Do you believe that is realistic in your view?"

Fatah Spokesman Jamal Nazzal: "Maybe it is time for Israel to stop choosing for us who we would like to be governed by. I mean, mutual respect requires for Israel to respect the will of the Palestinian people, no matter who the Palestinian people would elect in office."

Interviewer: "If there were members of Hamas still in Gaza, would you be willing to take part in security operations against Hamas?"

Jamal Nazzal: "Well there is a prerequisite for your question. I mean, the hidden meaning of your question is that for us to have already accepted the idea of Israel removing Hamas from power. We've never said that we have allowed Israel to do a regime change in Gaza."

[Fatah Commission of Information and Culture, Facebook page, Nov. 11, 2023]
Mahmoud Al-Habbash also serves as Supreme Shari'ah Judge and Chairman of the Supreme Council for Shari'ah Justice.
Yasser Arafat – Founder of Fatah and former chairman of the PLO and PA. During the 1960s, 70s and 80s Arafat was behind numerous terror attacks against Israelis. Although he received the Nobel Peace Prize in 1994 together with then Israeli Prime Minister Yitzhak Rabin and then Israeli Minister of Foreign Affairs Shimon Peres "for their efforts to create peace in the Middle East" after signing the Oslo Accords peace agreement, Arafat launched a 5-year terror campaign - the second Intifada (2000-2005) – in which more than 1,000 Israelis were murdered. Arafat died of an illness in 2004.
Ahmed Yassin - Founder and former head of the terror organization Hamas. The Hamas movement is responsible for numerous terror attacks and the murder of hundreds of Israeli civilians. Yassin was killed by Israel in 2004.
Hamas war on Israel October 2023 - At least 1,200 Israelis, including over 1,000 civilians, were murdered and over 4,800 wounded, in addition to approximately 244 (including 110 later released or liberated and 7 found murdered) who were abducted into the Gaza Strip, in a Hamas terror war that began when approximately 3,000 Hamas terrorists broke through Israel's security fence at the Gaza Strip border and launched a surprise attack, taking control of several Israeli towns and attacking a music festival on the Jewish holiday of Simchat Torah, which fell on the Sabbath, Oct. 7, 2023. During the massacre the terrorists tortured, raped, shot, beheaded, and burned their victims alive, murdering entire families and leaving at least 21 children without parents. Hamas terrorists also fired at least 5,000 rockets at Israeli population centers. In response, Israel launched Operation Iron Swords to counter the Hamas terror threat. Hezbollah terrorists in Lebanon joined Hamas' terror war starting from the following day, attacking Israel from the north. Occasional rocket launches and shootings continued from Lebanon throughout the war. A ceasefire and prisoner exchange deal began on Nov. 24, 2023, in which Israel agreed to release 150 terrorist prisoners, pause drone surveillance in the Gaza Strip, and allow movement between the northern and southern Gaza Strip, in return for 50 Israeli female and child hostages held by Hamas. The deal was subsequently extended with additional releases, until Hamas violated the agreement and resumed attacking on Dec. 1, 2023.