PA rewards teaching that "Palestine" erases all of Israel
Nan Jacques Zilberdik and Itamar Marcus
|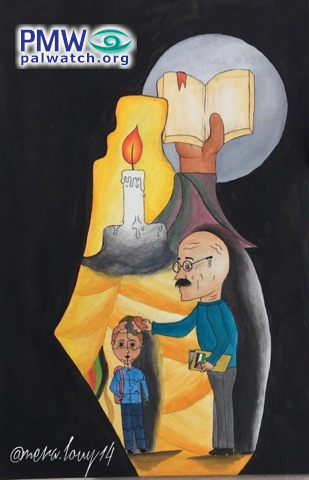 As 2019 ended, the Palestinian Authority emphasized that it views the entire State of Israel as "Palestine" and rewards anyone who reinforces this message. Accordingly the PA Ministry of Education awarded first prize in an art competition to a student who in her painting included the PA map of "Palestine," which presents all of Israel as part of "Palestine" together with the PA areas and the Gaza Strip.
The painting – representing "the Palestinian teacher's struggle in building the pillars of knowledge" – shows a teacher inside the map of "Palestine" holding a book with the Palestinian flag while building a boy out of puzzle pieces. [Official PA daily Al-Hayat Al-Jadida, Dec. 27, 2019]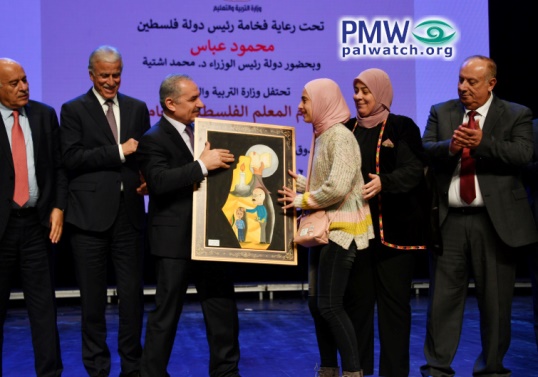 Joining the PA Ministry of Education in awarding this painting first prize were several PA officials, including Fatah Central Committee Secretary Jibril Rajoub (far left in photo above), Ramallah District Governor Laila Ghannam (right of artist Maira Ghneim) and PA Prime Minister Dr. Muhammad Shtayyeh who presented the prize at a ceremony for Palestinian Teacher's Day in Ramallah.
The PA uses this map denying Israel's existence in all contexts, as documented repeatedly by Palestinian Media Watch.
Undoubtedly this will continue to be the PA message in 2020. The map denying Israel's existence in any borders is prominently present in the offices of PA officials, in PA schools and schoolbooks,on official plaques and awards,in official logos, and at events and more. The use of the PA map goes hand in hand with the PA's wish for a "Palestine" that will replace Israel in the future stretching "from the Jordan River to the Mediterranean Sea" – an ideal expressed by numerous PA and Fatah leaders: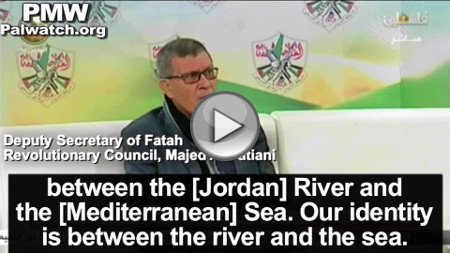 The following is an excerpt from the PA daily article about the art competition:
Headline: "Female student Maira Ghneim won the Palestinian Creativity and Excellence Prize"
"Female student Maira Luay Ghneim won the Creativity and Excellence Prize (first place) for the most beautiful plastic painting in the framework of a competition thatthe Palestinian [PA] Ministry of Education organized on the national level for Palestinian Teacher's Day. Artist Ghneim won the prize of the Ministry of Education's judging committee, which included prominent Palestinian plastic artists, for a painting representing the Palestinian teacher's struggle in building the pillars of knowledge. Palestinian [PA] Prime Minister Dr. Muhammad Shtayyeh presented the prize to artist Ghneim during a ceremony for Palestinian Teacher's Day in Ramallah."
[Official PA daily Al-Hayat Al-Jadida, Dec. 27, 2019]