Father of dead boy: "I'm so happy my son died as a Martyr and I'm leading him today as a groom"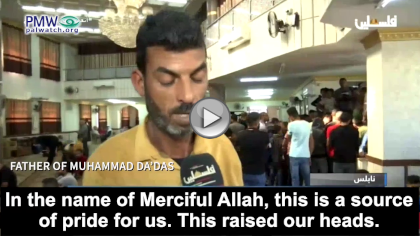 The PA encourages Palestinian youth to participate in violent confrontations with Israeli forces and risk their lives "for Palestine," in order to become Martyrs – i.e., die for Allah. The PA also urges parents to rejoice when their kids are killed in such confrontations. The following is an example of the PA's glorification of the death of a child and the child's father's "correct" reaction according to PA standards. He embraces the death of his 13-year-old son, states that he is happy and proud, viewing his son's funeral as his wedding procession as a "groom." A Martyr's funeral is considered his wedding to the 72 Virgins in Paradise in Islam:
Official PA TV newsreader: "Our people in Nablus accompanied to burial Martyr child Muhammad Da'das, who ascended to Heaven [killed] by the occupation bullets yesterday during confrontations…"

Father of Muhammad Da'das: "In the name of Merciful Allah, this is a source of pride for us. This raised our heads. A source of pride for us, for Palestine, and for the sake of supporting the prisoners… I'm very grateful. I'm so amazed and happy that my son died as a Martyr and that I'm leading him today as a groom. He is going to meet the prophets, the Martyrs, and the righteous. The angels will carry him and say: "We brought you a Martyr today." It's incredible how good the feeling and joy of the prophets and Martyrs is."

[Official PA TV News, Nov. 6, 2021]
Palestinian Media Watch has exposed numerous statements by PA officials and parents that glorify Martyrdom for kids, as well as statements by would-be terrorists or suicide terrorists who envisioned themselves at wedding ceremonies in Paradise.
Official PA TV, for example, broadcasts music videos with this message. One song promises that "The Martyr of the revolution will be led in a wedding procession on the day that Martyrdom-death is granted to him":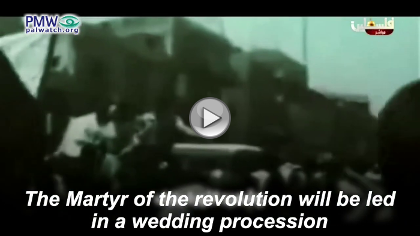 Another song broadcast many times by PA TV glorifies suicide bombings and calls for martyrdom. While showing the pictures of two female suicide bombers it presents terrorists who die during their attacks as "brides and grooms":
Palestinian Media Watch has exposed this music video several times. It aired on official PA TV on Dec. 11, 17 and 19, 2017, Jan. 8, 10, 20, Nov. 2, 2018, and Jan. 14 and July 2 6, 2019, and Feb. 16, 2020. The music video also aired on PA TV Live on June 2, 22, 28, 2019, June 1, 8, 15, 29, July 1 (twice), 2020. A similar version previously aired on Fatah-run Awdah TV, Jan. 23-24, 2017, and 4 times on July 22, 2017.