PA TV host lies, claims Israel only applies anti-polygamy law to Arabs, but lets Jewish men marry numerous wives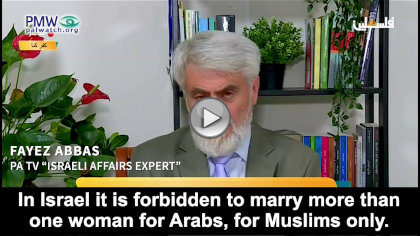 A grain of truth often serves the Palestinian Authority as springboard for a huge lie. A recent example was when the Israeli paper Haaretz reported that the Israeli authorities have difficulties enforcing the law that forbids polygamy, especially in the southern region among the Bedouin population.
For official PA TV's "Israeli affairs expert" Fayez Abbas this proved a golden opportunity to demonize Israel and spread the lie that in Israel, polygamy is only prohibited for Arabs and Muslims, whereas Jewish men freely can marry more than one woman:
PA TV "Israeli affairs expert" Fayez Abbas: "Another article in the [Israeli] paper Haaretz –says that in the Negev (i.e., in southern Israel) there are 6,680 cases of men who are married to more than one woman, and the [Israeli] police or attorney's office claim that they did not succeed in enforcing the anti-polygamy law. In Israel it is forbidden to marry more than one woman for Arabs, for Muslims only. The Jew can marry more than one woman according to the law in Israel (sic.), but the Arab cannot. [The Arab] is sentenced to an active prison term and the payment of heavy fines."

[Official PA TV, Palestine This Morning, July 4, 2021]
This is of course absurd as Paragraph 176 of Israel's Penal Law, which prohibits polygamy, applies to everyone living in Israel, without exception.
Palestinian Media Watch has reported on other statements by PA TV's so-called Israeli expert. Fayez Abbas has explained that: