Who was Abbas' honored guest and dinner partner at fast-breaking meal during the Ramadan?
The mother of 6 terrorists responsible for at least 10 murders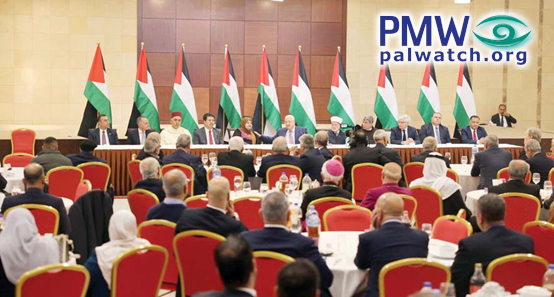 At a fast-breaking meal at the PA Chairman Mahmoud Abbas' "presidential headquarters" in Ramallah during the Ramadan, Abbas entertained many dignitaries from the PA top. These included:
"Leadership members, Muslim and Christian religious figures, a number of ambassadors and consuls in the State of Palestine, [PA] government members, [PA] Security Forces commanders, families of Martyrs, prisoners, and wounded, judges, academics, publicists, journalists, and businessmen."

[Official PA daily Al-Hayat Al-Jadida, April 16, 2023]
In other words - a lot of important people.
But who did Abbas choose to sit next to him at high table?
A fellow PA leader? A PA ambassador? Or a judge?
No.
He chose Um Nasser Abu Hmeid – the mother of 6 terrorists responsible for at least 10 murders.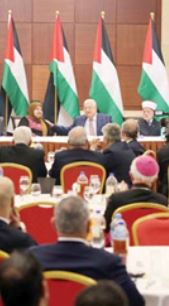 This choice underscores PA ideology that Palestinian Media Watch has exposed again and again: That terrorists and terrorist murderers are honored and put on a pedestal and so too the family members of those terrorists who die – the "Martyrs" - either while attacking Israelis or of illnesses in prison.

The romance between the PA and Um Nasser Abu Hmeid has long since turned into a real relationship, lasting more than a decade. PMW first reported on the glorification of Um Nasser Abu Hmeid in 2011 when the PA chose her to launch the PA statehood campaign with the UN. Since then the PA's terror mom has been mentioned, honored, and presented more and more frequently, recently as reported above as Abbas' dinner partner. The following are the highlights of Um Nasser Abu Hmeid's "career" as celebrated terror mom, exposed by PMW:
Mother of terrorist murderers chosen by the PA to launch statehood campaign (2011) https://palwatch.org/page/3057
Mother of terrorist murderers chosen honored as role model
for Palestinian women (2015) https://palwatch.org/page/7987
Abbas' and PA's female role model (2017)https://palwatch.org/page/12264
PA entraps UN Sec. Gen. to meet with mother of 5 terrorists (2017) https://palwatch.org/page/12920
Abbas honors mother of terrorists (2018) https://palwatch.org/page/14196
New Head of PLO Commission of Prisoners visits notorious terror–mom (2018) https://palwatch.org/page/14602
PA rebuilds homes of murderers under orders of Mahmoud Abbas and PA Prime Minister (2019)https://palwatch.org/page/15170
PA's terror mom role model has a new grandson – after sperm of her terrorist son is smuggled from prison! (2019) https://palwatch.org/page/15793
Terror mom urges imprisoned terrorists to smuggle out sperm and father as many children as possible (2019) https://palwatch.org/page/15844
A new house and huge terror salaries - the PA's rewards to a family of murderers (2019) https://palwatch.org/page/16509
Palestinian PM sees mother of 6 terrorist murderers as role model (2019) https://palwatch.org/page/16691
PA's terror mom is "giant of endurance" (2021) https://palwatch.org/page/29412
Um Nasser Abu Hmeid is the Palestinian woman of the hour (2022) https://palwatch.org/page/30345
On Women's Day PA Prime Minister Muhammad Shtayyeh chose to highlight the PA's terror mom (2022)https://palwatch.org/page/30855
PA PM: Mother of 6 murderers is "awe-inspiring" (2022) https://palwatch.org/page/31253
PA official on Women's Day: Um Nasser Abu Hmeid is "living role model of the Palestinian woman" (2023) https://palwatch.org/page/32928